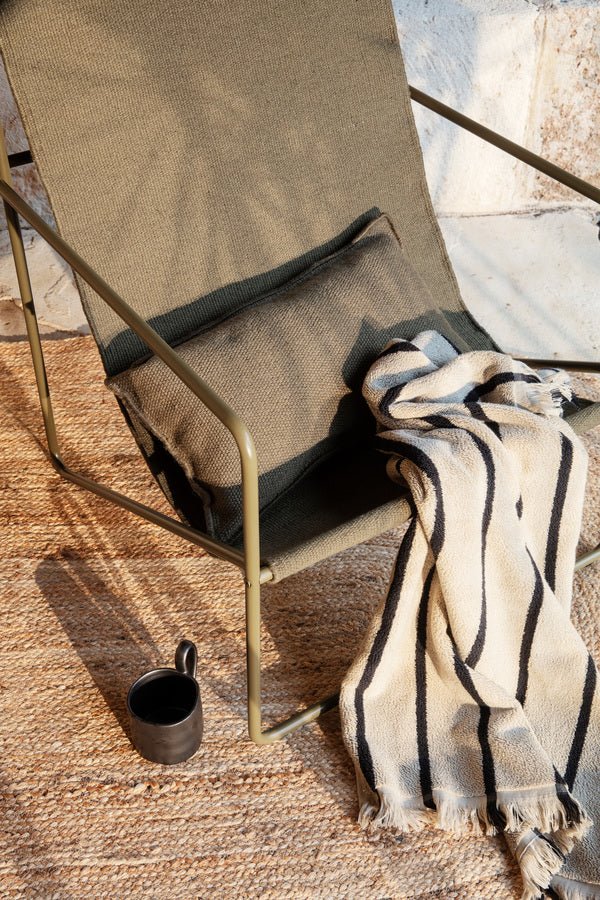 Ferm Living
Ferm Living, a Danish design company that creates contemporary and stylish home furnishings and accessories that are highly sought after. Their collection on Marz Designs features a range of products that are perfect for adding a touch of modernity to any home.
One standout product in the Ferm Living collection is the Ripple Glass, a set of four drinking glasses that are made from mouth-blown glass and feature a unique ripple effect that adds depth and texture to their simple, cylindrical shape. These glasses are perfect for enjoying your favourite beverages in style.
Another must-have from the Ferm Living collection is the Corduroy Cushion. This cosy cushion is made from a soft corduroy fabric and features a ribbed texture. It comes in a range of muted colours that are perfect for adding warmth and comfort to any room.
The Ferm Living collection also includes the Pond Mirror, a stunning wall-mounted mirror with a fluid form and a sleek, brass metal frame. It's the perfect statement piece for any room in your home.
Alongside these standout pieces, the Ferm Living collection has a variety of storage solutions like the Haze Vitrine Cabinet - the epitome of elegance and contemporary design. The cabinet brings together the best of both worlds with its highly-crafted sleek powder-coated metal frame and wired or reeded glass doors that close seamlessly and quietly. Use it in the bathroom to stylishly store beauty essentials, or as a modern focal point in your dining room to store dinnerware or create an at-home bar, perfect for those who want a sleek, modern look in their home.
Overall, the Ferm Living collection on Marz Designs is full of stylish and functional products that are sure to enhance any home. Whether you're looking for elegant drinking glasses, a cosy cushion, a stunning mirror, or a practical storage solution, you'll find something you love in this collection.