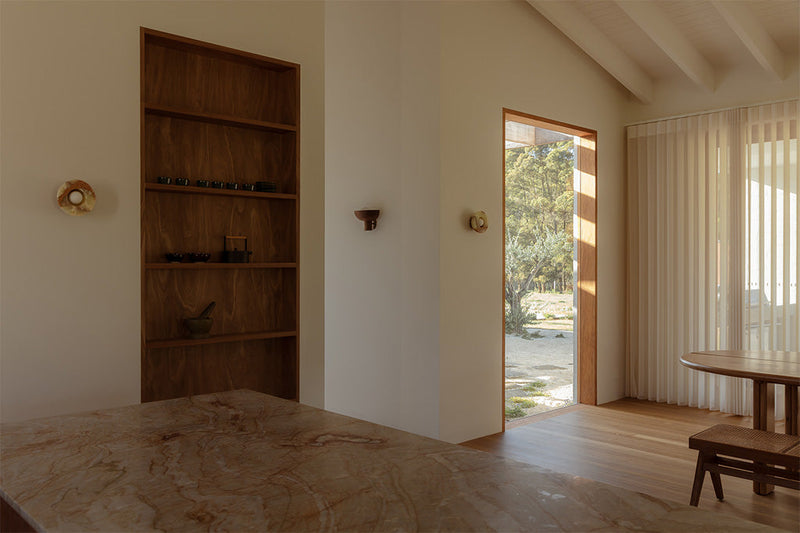 Wall lights
Immerse yourself in the craftsmanship of Marz Designs' Wall Lights collection. Each light is a testament to our dedication to sustainability, showing a balance of mid-century architectural movements and contemporary aesthetics.                                 
Our Terra 2 Wall Light is an innovation of design and elegance. This unique fixture provides bi-directional wall lighting and a soothing ambient experience.
The Selene Surface Sconce is a beacon of modern design. This wall sconce crafts a soft light that effortlessly transforms any gathering into an intimate event.
Experience the minimalistic charm of the Terra 00 Surface Sconce. This light not only radiates a glow but also echoes our passion for natural materials, adding a subtle yet unique aesthetic to your space.
The Selene Uplight is a remarkable example of our commitment to longevity and thoughtful consumption by repurposing offcuts from other ranges. Its wall-wash lighting adds warmth while its stylish design serves as an eye-catching addition to any space.
And the Bright Beads Disc Wall Light embraces our pursuit of natural materials, bringing light to your walls and a touch of nature.
The Wall Lights collection by Marz Designs is where each wall light and surface sconce demonstrates our unique craftsmanship and sustainable design.